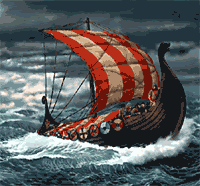 The Sea Stallion is the largest Viking Longship reproduction in the world. It was modeled after a ship discovered in Roskilde fjord after having sat at the bottom for over 900 years. Using replicas of Viking-era tools, the 7.5-ton Sea Stallion was assembled with 5,250 cubic feet of oak and 7,000 hand-forged iron rivets. The Crown Prince of Denmark, Frederik André Henrik Christian, is the sponsor of this archaeological marvel.


This summer, the Sea Stallion will sail 1,900 kilometers (1,200 miles) across Northern European waters from Roskilde, Denmark to Dublin,Ireland. The 2 month voyage will test the limits of its 65 crew. According to Sail World: "The crew's training included participation in altogether fourteen practice trips since 2004, participation in a sea-safety seminar under the guidance of a former navy instructor, a first-aid class with the project's nurse, and in the evacuation drill of the next training weekend, held in corporation with the Admiral Danish Fleet."


These modern-day Vikings will forgo most amenities, but they will have the aid of a G.P.S. system. Hour by hour updates can be tracked online showing the ship's progress. 1200 years ago, Vikings settled in Dublin. This amazing voyage restores the history and the bond between the Irish and the Scandinavians.