Established by Napoleon in 1804, Père Lachaise is the largest cemetery in Paris, France. It is located on a sprawling 118 acre hill along the Right Bank within the XXe arrondissement. Many of France's most important artists, composers, novelists, and intellectuals have been buried over there over the last two hundred years, including Honoré de Balzac, Frédéric Chopin, Joseph Fourier, Édith Piaf, and Marcel Proust. The cemetery is also the final resting place for many of France's adopted sons and daughters, including Maria Callas, Jim Morrison, and Oscar Wilde. Each year, Père-Lachaise attracts hundreds of thousands of visitors making it one of the most famous cemeteries in the world.


Père-Lachaise is the home to many decadent sculptures and tombs. One of the most unusual graves belongs to French journalist Victor Noir (1848-1870). Noir was a hugely popular writer for the pro-revolutionary newspaper La Marseillaise. He dedicated himself to the underclasses, especially France's large Gypsy population, and wrote many pieces in their favor. In 1870, on behalf of politician Paschal Grousset, Noir was sent to meet with Prince Pierre Bonaparte in order to fix the terms of a duel. During negotiations, a violent argument broke out and Bonaparte shot and killed Noir. This resulted in a huge public outcry against Bonaparte and the French government. Noir was so revered that more than one-hundred thousand people joined in his funeral procession.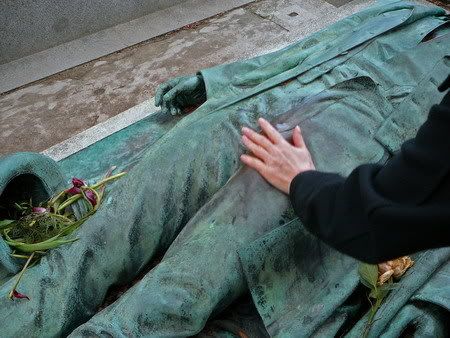 Sculptor Jules Dalou cast an extremely realistic, life-size bronze statue as Noir lay dead on the street. The statue shows Noir in a frock coat and trousers (top button undone) lying flat on his back, with a distinct enlargement in the groin. When a male dies a traumatic death, it is not uncommon for blood to rush to vital organs, including the genitals. Myth says that by placing flowers in the in the tophat after rubbing the groin will aid those seeking love or fertility. As a result of the legend, Noir's statue has become pretty well worn over the years prompting Père Lachaise Cemetary to erect a fence around the site. After heavy protests, the fence was taken down and replaced by a sign that reads:

Any damage caused by graffiti or indecent rubbing will be prosecuted.